YWkids School Age Program
YWkids is now located at The Campbell School, 145 Essex Street, New Bedford MA 02745. 
New Contact Number for YWkids is: 508-525-7961
Click HERE to view YWkids Flyer
YWkids School Age Program serves families in need of quality care for their children.  YWkids staff strive to acknowledge, respect and design ways to accommodate the uniqueness of each child so that all may reach their fullest potential.
YWkids School Age Program is licensed by the Department of Early Education and Care.
activities
YWkids School Age Program is designed to offer:
Educational experiences in a structured environment.
Hands-on, theme-based activities in subjects such as art, physical education, math, science, literature and the YWCA Hallmark programs of racial justice and economic advancement.  Activities lead children through the discovery process as individuals and as members of a group.
Program offerings guided by the creative process of staff and children together.
fees

$19.00/after-school $38.00/full day
Vouchers are accepted from PACE
Income eligible slots are available through a contract with the Department of Early Education and Care
Supportive Services are available through referrals from the Department of Children and Families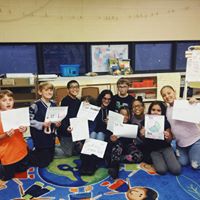 Funded in part by contracts with the Commonwealth of Massachusetts, United Way of Greater New Bedford, Kaplan Foundation, Community Foundation of Southeastern MA Rainy Day Fund, New Bedford Day Nursery and Yawkey Foundation.

Girls Exclusive After-School and Summer Programs
Girls Exclusive is an exciting program for girls ages 10 to 14.  Girls learn various tools and values in becoming a teen with a well-rounded personality.   They explore their self-identity, learn about nutrition, maintaining a healthy lifestyle, home alone safety, babysitting, and etiquette.  The program addresses several areas of impact, such as improving self-esteem, financial literacy, and racial equality.  The program motivates girls to stay in school and apply themselves to their studies to the best of their individual ability.  They learn about careers and the necessary educational and training requirements for future career opportunities.
The summer program exposes the girls to additional activities including sailing with Community Boating, the Growing Money curriculum, field trips, fitness and nutrition, arts and crafts, fundraising and community service, team-building, babysitting, racial justice actvities and guest speakers.
Girls Exclusive Summer 2019 registration coming soon!
Please fill out all forms and return to Jordan Latham at jlatham@ywcasema.org or drop off materials to 20 South Sixth Street New Bedford, MA 02740
Girls Exclusive is funded in part by the Community Foundation of Southeastern Massachusetts Rainy Day Fund, Fall River Women's Union, and Mayor's Invest-in- Kids Program.
the mayor's youth council
The City of New Bedford—Mayor's Youth Council (MYC) was created to be the eyes and ears of city youth in an advisory capacity to the mayor and city government.  The council assists city officials in the development of community projects from a youth's perspective.  The Mayor's Youth Council is a program of the YWCA Southeastern Massachusetts in partnership with the City of New Bedford Office of Human Services.
The MYC addresses leadership development as well as youth involvement and civic engagement in the development of city projects.  The council raises awareness about issues important to youth and gives youth a voice.  Participants learn leadership skills, advocacy, planning and organization, public speaking, and community service.  Members attend city council, school committee and youth and neighborhood subcommittee meetings and report back to the full council increasing their knowledge and awareness of issues addressed.
The MYC is made up of 25 youth entering 9th through 12th grade.  Youth self-nominate through an application process and are then invited to interview for open positions.  For more information, please contact Pam Pollock, program advisor, at (508)-965-6927 or email to mayorsyouthcouncil@ywcasema.org.
Mayor's Youth Council is funded by the City of New Bedford and the Invest in Kids Program.