About the Women of Distinction Awards:
YWCA Women of Distinction Awards inspire others to achieve by recognizing the leadership of women in a variety of arenas. YWCA Women of Distinction have brought key issues facing women, girls and people of color to the forefront. The awards recognize outstanding women in Southeastern Massachusetts whose lives and accomplishments reflect the YWCA's Mission of eliminating racism and empowering women. Honorees are recognized for their exceptional commitment to improving the lives of women and girls through their leadership, advocacy, and community service, while achieving success in their career fields.
Please enjoy photos and bios of the 2015 Women of Distinction Honorees:
Lee Blake: Lee Blake is a New Bedford community activist and an education administrator with a wealth of experience as a teacher and administrator in urban education. Born and educated in New Bedford, Lee was one of the founding members of the New Bedford Women's Center in 1978 and has actively been involved in the women's movement on a number of fronts since that time. Lee lived and worked in New York City for a number of years where she worked on education and school reform issues and served as director of the New York City Mayor's Office of Education from 1988-94. Upon returning to the South Coast in 2000, Lee continued her work in education and currently serves as director of the Campus Compact at the University of MA Dartmouth, connecting university programs to k-12 schools on the South Coast. In her down time, Lee serves as president of the New Bedford Historical Society and most recently chaired the efforts of local preservation organizations to pass the Community Preservation Act which will bring about $1 million dollars to New Bedford for historic preservation and park beautification to continue the work many local organizations have done to preserve the history and authentic sense of place in New Bedford, while creating a wonderful place to live for our families.
Cheryl Opper: Cheryl Opper, President and Executive Director, founded School on Wheels of Massachusetts (SOWMA) out of her home in Easton Massachusetts in April 2004 with a budget of $20,000 tutoring 20 homeless children a week at 2 family shelters. Today, with a budget of close to $1 million SOWMA supports the efforts of 300 volunteers each week who tutor school-age children K-12, all of whom have been impacted by homelessness. Additionally SOWMA provides academic support, financial assistance and mentoring for 32 college students. Last spring SOWMA had 4 students graduate from college, this year they are predicting 5 more graduates. Cheryl has a B. S. Degree in Early Childhood and Family Life Development from Indiana State University. She has been an educator and child advocate for 30 years. She has grown SOWMA from a grassroots organization based out of her home to a highly respected leader in the effort to provide educational support services for students impacted by homelessness. She has received many awards during her time at School on Wheels including: the "Distinguished Service Award" from Bridgewater State University; "Community Service MVP Award" from the New England Patriots; the Bank of America "Local Heroes Award" and others.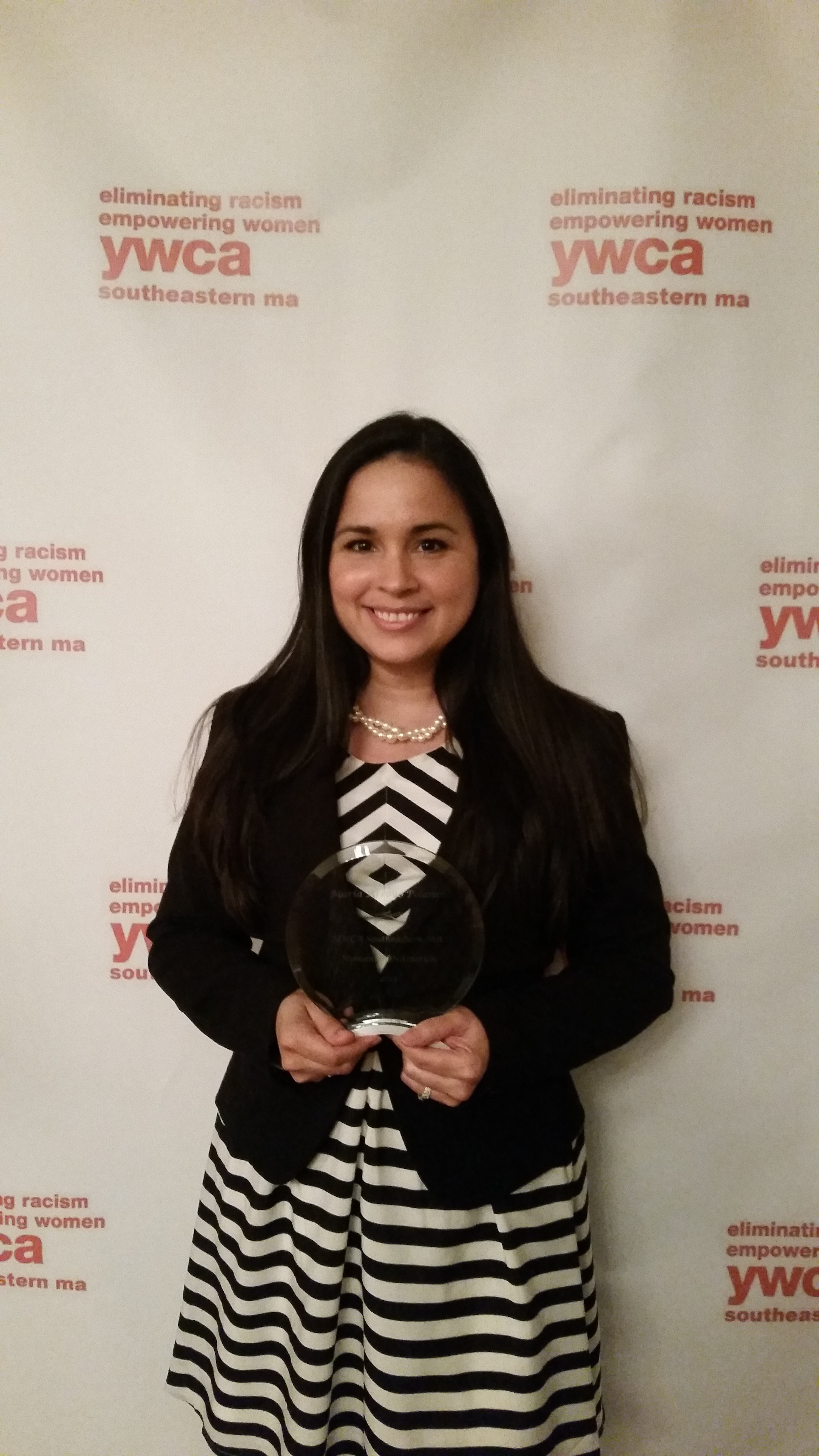 Maria Arroyo: Maria Arroyo, Psy.D, is a Bilingual Clinical Psychologist in Private Practice with more than 15 years clinical experience. She is a native of San Juan, Puerto Rico, born to Puerto Rican parents, and first generation to hold a college degree. In 1994, she migrated to New Bedford with her one year old son, and while five months pregnant with her second child. Because at the time, her proficiency of the language was limited, she dedicated the first two years in the USA to learning the language and adjusting to the culture. Two years later, in 1996, she enrolled in a two-year program at Bristol Community College to pursue an Associates Degree in Pre-Professional Studies with the intention of transferring her credits to a co-joint 4-degree college program at the University of Massachusetts, Dartmouth, where she obtained her Bachelor of Arts degree with a Major in Psychology and a minor in Spanish Literature in 2000. Since then, she has obtained two graduate degrees- a Master of Arts degree in Clinical Psychology from the University of Massachusetts, Dartmouth, and a doctorate degree in Clinical Psychology and specialization in children, adolescents, and families from the Massachusetts School of Professional Psychology. Her vision in life is to serve others and contribute to the betterment of society.
Mary Ann Rogers: Mary Ann Rogers is a graduate of Fisher College where she gained a degree in Business Management. She is currently an Epic Application Business Analyst for Cadence at Southcoast Health where she has worked for 46 years! She worked as a Patient Access Manager for over 20 years and is now enjoying her current role. Other than her extensive work experience, Mary Ann is involved in many community organizations. She serves as the President of the Cape Verdean Recognition Committee, the President of Martha Briggs Educational Club, the Vice-President of the Northeastern Federation of Women's Club, the President of Our Lady of Assumption Church Parish Council, and also serves on the Stewardship Committee. Mary Ann has also taught catechism for 16 years and is a Life member of the National Association of Colored Women's club and a Member of the Seaport District Council. She is married to Edward J. Rogers and they have two daughters, Tiffani and Mecaela. Aside for her personal and professional endeavors she enjoys traveling.
Donna Wirzburger: Donna has been involved with the Miss America Organization since 1981, serving as a titleholder, State and Local Board member, Emcee, and Business Manager. She is the current Executive Director of the Miss New Bedford Scholarship Program which encourages young women in the community to continue their education through scholarship opportunities and to give back to the community through their service platforms. Donna is honored to have mentored so many young women through this program which is truly preparation for life. She is a graduate of Boston University with a Master's Degree in Speech-Language Pathology and is currently employed as a speech-language pathologist by New Bedford Public Schools, the Kennedy Donovan Center, & the Schwartz Center for Children. Donna resides in New Bedford with her husband Peter and is the proud mother of son Dustin and daughter Baileigh.
In addition to the Women of Distinction Awards, a Spirit of Leadership is Awarded to honor a young woman for her academic and career achievements, community service, advocacy, support of efforts that benefit women and girls, and commitment to the YWCA Mission of eliminating racism and empowering women.
The 2015 Spirit of Leadership Award was given to Sarah Hope:
Sarah Hope is a graduating Senior at New Bedford High School. Born and raised in New Bedford, Massachusetts she is an exemplary example of the Spirit of Leadership Award. She is involved in many student activities including softball, student government, and National Honor Society. Sarah is the Co-chair of the Mayor's Youth Council, which is the source of much of her community service. She has contributed many hours over the last four years to the betterment of the City of New Bedford through her service. In the fall, Sarah will be attending Emerson College in Boston to study Journalism.
In addition to the Women of Distinction Awards and Spirit of Leadership Award, the Yvonne M. Drayton Award is given to a YWCA volunteer whose commitment to the YWCA and community at-large has been extraordinary.
The 2015 Yvonne M. Drayton Award was given to Fernanda Gonsalves:
Fern, as her friends call her, is a life-long New Bedford resident. She was born just 3 months before the stock market crash known as Black Tuesday, which signaled the start of the Great Depression. As a Depression-era baby, Fern learned the value of hard work at an early age, which served her well through jobs at Bunny Bread, Cherry and Webb, Continental Screw Co. and lastly the Bristol County Registry of Deeds, which she retired from at the age of 62. Fern is the mother of three and grandmother of one. Throughout her life her most-treasured time is that spent with her family. However she also enjoys meeting her former co-workers and friends for lunch, and going on day trips, and of course, shopping excursions with her daughter Jane. She belongs to a Red Hat group that meets monthly. When she is not out and about enjoying herself she is usually immersed in a book, and reads an average of two per week. Fern joined the Red Dress Fashion Show committee almost 10 years ago at her daughter Jane's urging, and hung up her model-wrangling hat this year. She so enjoyed this volunteer work, even when it meant coercing reluctant models into dresses they didn't like. Her absence from the Committee was felt strongly at our last show. No one can take Fern's place.
Women of Distinction Awards Reception
Date: Wednesday, May 27, 2015
Time: 5:30 pm
Location: Rachel's Lakeside
Tickets: $50/person
Dinner options: Almond-Crusted Scrod or Terrace Tenderloin
Click to Purchase Tickets
Past Recipients of Our Women of Distinction Awards
2014
2014 Women of Distinction Honorees:
Raquel Dias
Janet Freedman
Marci Pina-Christian
Maria Pina-Rocha
Lena Pires
Theresa Romanovitch
Corinn Williams
2014 Spirit of Leadership Award  
2014 Yvonne M. Drayton Award  
2013
2013 Women of Distinction:
Cyndi Colson
Helena daSilva Hughes
Jean Fox
2013 Spirit of Leadership Award
2013 Yvonne M. Drayton Award
2012
2012 Women of Distinction

Tryne Costa
Darcy Fernandes
Martha Kay

Dr.

Juli Parker
Lisa Yates
2012 Spirit of Leadership Award
2012 Yvonne M. Drayton Award
Patricia L. Andrade, M.D.
2011
2011 Women of Distinction

Shelly Correia

Dr.

Jean F. MacCormack
Arlene McNamee
Rita Ribeiro
Margaret D. "MarDee" Xifaras, Esq.
2011 Spirit of Leadership Award
2011 Yvonne M. Drayton Award
2010
2010 Women of Distinction

Christina Bascom
Cecilia M. Felix
Pauline M. Garcelon
Bernadette Souza
Marlene Tavares
2010 Spirit of Leadership Award
2010 Yvonne M. Drayton Award